With Sani Bot, Cleaning is a Breeze
Introducing a faster, easier, more effective way to clean your personal CPAP equipment.
Choose from our amazing line of automated CPAP cleaning machines.
GET PROFESSIONAL MEDICINAL SANITATION & DISINFECTION AT HOME
Cleaning your sleep apnea CPAP mask is necessary to maintain hygienic and bacteria-free equipment.
Sani Bot's efficient CPAP mask and hose sanitizer uses cleaning power of transducer generated ultrasound, water and powerful disinfectant tablets (included) to deliver heavy duty, medical sanitation and disinfection within the comfort of your own home. Ceramic heating element and 1-2-3 simple touch screen panel provide normal and deep cleaning options to remove dirt, debris, oils and other organic residue, fast and effortlessly, without leaving any unpleasant odors. The ultrasound and cleansing fizzing bubbles get into small crevices that UV light can't reach without the long wait times for odors to dissipate associated with activated oxygen machines.
SET IT AND FORGET IT
Why spend your precious time trying to clean your CPAP headgear thoroughly, when you can simply use this patented, state-of-the-art disinfecting device to do the job for you? Completely automated, Sani Bot CPAP mask and hose cleaner allows you to have a sparkling clean, sanitized breathing mask at the push of a button. Simply fill the stainless steel tank with water, add a cleansing tablet, submerge your mask and set the 1-30 minute (full range) timer.  When cycle is complete simply remove, drain & dry. Could it get any easier?
FEATURES THAT WILL HAVE YOU SINGING
Equipped with a sleek, touch screen panel for simple 1-2-3 step operation,  specialized ceramic heater function for superior cleaning and advanced disinfection of deep clean at 140˚, as well as a Stainless Steel Submersion Plate, you can be sure that nasty bacteria, mold and mildew will be removed from your CPAP accessories.
PERFECT FOR YOUR MASK TYPE
Our premium quality CPAP cleaning machines are compatible with a wide range of mask types. Tank sizes vary by model. Depending on size of mask, hoses may need to be cleaned separately. If it fits in the stainless steel tank, you're good to go. Simple as that.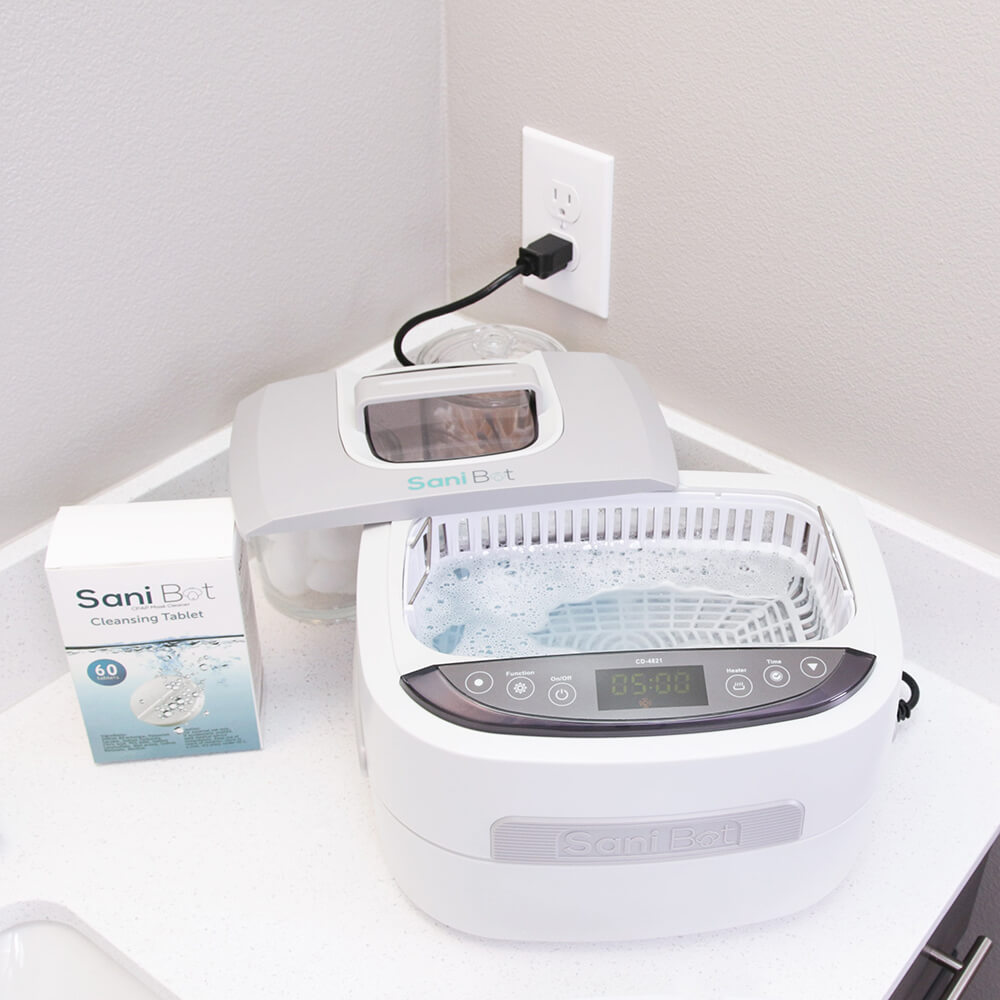 OUR PROMISE TO YOU
Backed by Sani Bot's 100% quality guarantee and the manufacturer's 1-year limited warranty, you can purchase your Sani Bot CPAP equipment sanitizer cleaner with peace of mind. With nothing to lose, order yours today!